Wednesday, November 24, 2004
What I'm Thanksful For
Tony's favorite holiday is Thanksgiving. He likes to say what he's thankful for.
I'm thankful for this jade, this tiger aloe and this Guinness.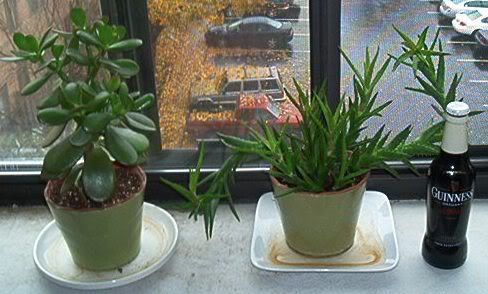 My favorite holiday is Earth Day because it pisses rednecks off. When I was a freshman in college, I wrote "happy earth day" on the dry erase board on the door of my room. That's what blogging was in 1992. Someone erased it, so I wrote it again. Someone erased it again, so I wrote it again. Then I picked some beer cans out of the trash and put them in the recycling bin. It was a fun day.
I've been married now for about 14 months. I'm thankful for Jen. I'm also thankful for Jen's family. Jen's parents are parents I'd be happy to call my own. I'm thankful for my family as well.
I'm thankful for my friends. I'm thankful to have a job, to be healthy and to not have bombs going off in my neighborhood all through the night.
I'm thankful that when I eat a can of tuna, I can't actually
taste
the mercury. Yet.
I'm thankful for intersting books to read, loud music to listen to, and IKEA.
Happy Thanksgiving to you.
Comments:
Happy Thanksgiving, Bob and Tony! I'll be making a list of stuff I'm thankful for on the way down to Decatur this morning. Still like the plant pics. Enjoy the holiday, stuff yourselves silly, and think of us.
In VB with Jen - staying with her family. Ate T-day dinner with my family (20 minutes from her parents). Her parents ate dinner at Jen's brother's in-laws. So Jen's mom didn't get to cook t-day dinner and doesn't get to have leftovers. So she's cooking her own t-day dinner today (Sat) and we are watching UVa/VT on TV. Good stuff. Scoreless at the half.
Hope everyone's long weekend is restful.
P.S. Got some Old Navy clothes and $50 to Barnes and Noble from Jen's family for my birthday (Tues)!
Thanks for remembering my fav day!
Things have changed a bit since the "family" dinner has been reduced to me and my Mom. However, I am thankful that she's still around and that she lets me know every waking moment how much I mean to her.
I am thankful for all my friends, of course. They make everything in this relatively stupid life worth it.
I am thankful that I no longer have a boss, just a depleting bank account.
Other things that don't suck, but should be remembered at all times: good/bad music, food, sex, and sleep...
god bless us all.
Post a Comment